ADAPTER PRIZE
Hey, thanks for taking part in our very first ADAPTER PRIZE nominations.
Remember to email CARRIE@RECORDSTOREDAY.COM to get your name on the list of stores who are participating in this promotion, and encouraging customers to come in and put in their nominations.

Below are some tools for you to use and refer to, to help get your store and your customers involved. Remember that how you take the nominations and how you promote them is COMPLETELY UP TO YOU. You can do it in the store (set up a box for customers to slip their nominations into, collect them behind the counter, etc.) , online, or a combination of the two (we are including customers in the nomination process, because driving people to stores is always at the heart of what everything we do).

Below, you'll find
*LOGO for the RSD Adapter Prize in .jpg format, feel free to resize however you need and use it in your promotions or when creating your own nomination tools.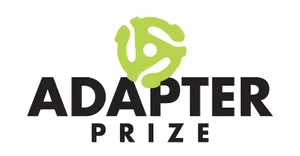 (click for large version)

*A NOMINATION sheet, in both .doc and .pdf format—use the .pdf as the actual sheet you give your customers or use the information in the .doc to create your own nomination slips (NOTE: There's a line in there where you can write in your own deadline. You're going to need to tally your customers' nominations into ONE title for each category, and that's what you'll turn in to RSD by August 2. You determine when your customer deadline is, be sure to give yourself enough time to tally the titles. (Make it an employee party!)
WORD NOMINATION SHEET
PDF NOMINATION SHEET

*CRITERIA There is a .pdf and a .doc that lists the criteria for a title to be nominated. You may find this useful to print out and give to customers when they ask about the Adapter Prize, or you may want to include the criteria in some way in your promotions—online or otherwise.

*RECORD STORE DAY 2013 EXCLUSIVE RELEASES We are including the releases for RSD 2013 that are eligible for the RECORD STORE DAY RELEASE OF THE YEAR Adapter Prize. (Only actual Exclusive titles are eligible—Windowed titles are not.)
2013 EXCLUSIVE RELEASES PDF

And below is the timeline, for your reference (no real need to make this public, please.) If you find there's something else you need, or you have any questions, please let us know. (carrie@recordstoreday.com)


Friday June 21 Stores begin signing up to be nominating stores and taking nominations

Monday July 1 RSD starts promoting the nomination process at local stores

Friday July 26 Stores begin sending in their final nominations

Friday August 2 All nominations due from stores

August 5 through 9 RSD vets the nominations

August 12 Stores can begin voting on final titles online (Poll goes up on interior page of RSD.com)

August 30 VOTING ENDS

August 30 through September 6 RSD Tallies Votes

WEEK OF SEPTEMBER 10 ANNOUNCE AWARD