Titles Announced For Record Store Day 2015!

TITLES ANNOUNCED FOR RECORD STORE DAY 2015!

INCREDIBLE RSD OFFERINGS FROM MUMFORD & SONS,
FOO FIGHTERS, METALLICA, SUN RECORDS,
JUSTIN TOWNES EARLE, TEGAN AND SARA, KATE PIERSON,
AND MANY, MANY MORE…

The List can now be viewed
by visiting http://recordstoreday.com

This past Tuesday, March 10th, a press conference was held at Rough Trade Records in Brooklyn to announce the full list of titles for Record Store Day 2015.

Conference panelists included Fred Schneider and Kate Pierson (B-52s), Annie Clark (St. Vincent), actor/comedian Todd Barry, artist Kosmo Vinyl, and Sam Calagione, proprietor of Dogfish Head Craft Beer, the official beer of Record Store Day. The proceedings were moderated by RSD co-founder, Michael Kurtz, who requested (and received) a round of applause for the fact that some 200 new indie record stores have opened their doors in the past few years, domestically-- out of the box proof that interested and innovative music lovers are making moves.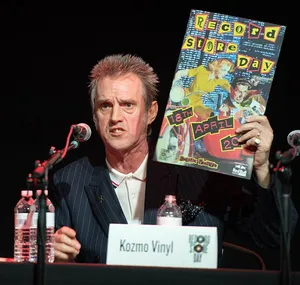 Kosmo Vinyl, attends the 2015 Record Store Day Press Conference
Rough Trade Records in Brooklyn on March 10th, 2015
Mike Pont/WireImage/Getty

If online presence is any indication of the same, may we simply point to the fact that traffic to recordstoreday.com increased by a whopping 38% over last year's announcement date with almost 2,000 unique visitors on the site minutes after the list was posted midday on Tuesday.

And, why not? This is good stuff…

As in recent years, the plats du jour are a veritable feast for the music lover, covering all the best that the spectrum has to give, but we can tell you that offerings for the 2015 event, slated for Saturday, April 18th, are weighted towards the indie labels—254 titles from the indies of the full 400 RSD releases!

Foo Fighters, featuring this year's Ambassador, Dave Grohl, will release their Songs From The Laundry Room on 10" vinyl (RCA), a handful of nascent Foos' demos created at Barrett Jones' Laundry Room Studios in Seattle.

Metallica follow suit, re-releasing their first demo, No Life Til Leather as a cassette-only release on Blackened, furthering their ongoing relationship with Record Store Day.

And Mumford & Sons offer a special RSD vinyl single, "Believe" on Glassnote, the first release of new music from their upcoming full length record.

Kate Pierson, whose solo debut, GUITARS & MICROPHONES, was released last month on Kobalt/Lazy Meadow had in her hands at the press conference the red vinyl 7" she's putting out especially for Record Store Day.

As for spotlighted live recordings, Tegan and Sara will release their Live At Zia Records, an in-store performance at the Arizona record store recorded in September 2013; Justin Townes Earle gives us his Live At Grimey's, from Nashville's notable indie record outpost, set for release on 10" vinyl through Vagrant; St. Paul and the Broken Bones will drop Live from the Alabama Theater 12″, a picture disc in the shape of their home state of Alabama; Phish give us New Year's Eve 1995 Live at Madison Square Garden in 6 X 12" vinyl box set on Jemp/ADA.

Record Store Day teams up with Sun Records and Tito's Handmade Vodka for an extraordinary 2nd volume of their Sun Records Curated By Record Store Day collection, with tracks chosen by participating indie record stores. The comp will be released on 12" vinyl through ORG.

Concord presents Miles Davis The Prestige 10 Inch LP Collection Vol. 2, a brilliant, career-spanning 5 10" LP set from the jazz master. that follows Vol. 1, released last year for Black Friday.

Aussie artist Courtney Barnett releases her "Kim's Caravan" on 12" vinyl on mom+pop and fans of Jeff Beck won't be disappointed, as Sundazed Music will release three 7" EPs, Love is Blue/I've Been Drinking; Hi Ho Silver Lining/Beck's Bolero; and Tallyman/Rock My Plimsoul.

Record lovers can expect some fantastic—and diverse--titles from Sony this year, including Legacy pieces like Cassandra Wilson covering Billie Holiday on "You Go To My Head"/"The Mood That I'm In," (with Lady Day's originals on the flip side) and the stars of Cameron Crowe's SINGLES, Citizen Dick with their appropriately titled "Touch Me I'm Dick" 7".

Fans can expect a new Interpol "Everything Is Wrong" 7" (Matador/ADA) with a never-before-released B-side exclusive to this Record Store Day release with artwork from Shepard Fairey. Father John Misty presents a lovely, acoustic version of the title track of his latest album, I Love You, Honeybear, along with a new, exclusive B-side on a colored-vinyl, heart-shaped 7".

Young God (EONE) will reissue Swans first 12" EP, originally released on Labor Records in 1982. Rhino continues its now beloved SIDE BY SIDE series with 7" singles from diverse pairings like Gram Parsons/Lemonheads, David Bowie/Tom Verlaine, Grandmaster Flash/Stiff Little Fingers, Dionne Warwick/The Stranglers, R.E.M./Syd Barrett and another MYSTERY RELEASE! 

Grouplove gives us unreleased covers (one with Portugal The Man) and their cover of The Beach Boys' "Don't Worry Baby" on 10" vinyl (Atiantic).

For the first time on vinyl, Opal releases a double 12" set of the legendary 'lost' Brian Eno album My Squelchy Life. Heavily bootlegged and entered the lexicon of Eno myth, the album was originally slated for release on Warner Bros in September 1991 and pulled from the schedules at the last moment. For this exclusive Record Store Day edition it is presented in a deluxe gatefold edition including an additional track from the same recording session, "Rapid Eye", that has never been released.

Yep Roc Records is also set to release "Follow Your Money"/"Motion Pictures" a Limited Edition Record Store Day Exclusive on 7" vinyl. Recorded in Melbourne, Australia, this release features the collaboration between Robyn Hitchcock and Emma Swift. The two met at an Emmylou Harris & Rodney Crowell concert in 2013 and have been making music as a duo ever since, drawn together musically by a penchant for songs of desire and desolation. "Follow Your Money," is a brand new track and "Motion Pictures" is a cover by Neil Young.

And speaking of Neil Young, Blitzen Trapper will release a live recording of their set covering Young's classic album, Harvest live at the Doug Fir Lounge in Portland, OR.

The J Dilla classic, "Fuck The Police" (Pay Jay), out of print for over a decade, and remastered from Dilla's original mixes will be issued as a badge-shaped picture disc single for Record Store Day 2015. Jurassic 5 is also set to release a four disc set in a wooden box, which begins with their independently-released single "Unified Rebelution" in 1994, and ends with their stellar debut full-length: 2000's Quality Control.

Motown release Marvin Gaye's classic "How Sweet It Is (To Be Loved By You)"-- A special double A-sided 7-inch single elebrating the 50th anniversary of one of his biggest hits.

On the fun side of things, RPM Turntable Baseball release Two Games, One Record (A Two-Player Game Played at 33 1/3 RPM) their follow up to RPM Turntable Football, Polaris (a one-off musical project by members of the Miracle Legion) release Music From The Adventures of Pete and Pete, the Nickelodeon program for which they provided songs.

And all that is just a TASTE of the special releases that will be coming out as part of the celebration of Record Stores.

Record Store Day is managed by the Department of Record Stores and is organized in partnership with the Alliance of Independent Media Stores (AIMS), the Coalition of Independent Music Stores (CIMS) and celebrates the culture of independent record stores by playing host to in-store events/performances, signings and special product releases on a global scale.

Record Store Day takes place annually on the third Saturday of April.

Record Store Day 2015 Sponsors:

ADA, Border City Media, Caroline, Crosley Turntables, Disk Union, Dogfish Head Craft Brewery, Discmakers, InGrooves, Music Business Association, RED, Red Bull Sound Select, Redeye Distribution, Sony Music, Universal Music Distribution, Warner Bros. Records, WEA

Record Store Day logos can be requested by emailing Information@recordstoreday.com The Seal of Record Store Day 2015 Ambassador Dave Grohl can be found at www.recordstoreday.com under PRESS KIT

General media contacts:

Perry Serpa
Good Cop Public Relations
Phone: 917 660-4137
perry@goodcoppr.com

Cristina Parker
NoiseNY
Phone: 917 684-0452
cristina@NoiseNY.com