RECORD STORE DAY NOTE TO FRIENDS AND FANS OF RECORD STORES
Hi Folks.

You're getting this email because you signed up for the Record Store Day mailing list, and hopefully that means you've already got our special Saturday circled on the calendar. If not: This Saturday is April 18, the third Saturday in April and that means IT'S RECORD STORE DAY! Time to head in to your favorite local record shop, or find one that's new to you, and celebrate with them what a fantastic place a record store is.

We started this 'holiday' back in 2008, because we knew that all over the country, and really the world, independently owned record stores were thriving, growing, serving their communities and giving them a space to talk about music and art and culture and everything else under the sun. Giving them a place to go and bring home the art and emotion wrapped in a disc (plastic or vinyl) (or a cassette, come to think of it). Because that's what record stores offer. And this weekend we celebrate our EIGHTH Record Store Day, with more stores than ever thriving and growing and generally being awesome.

And the fact that the stores we celebrate are all independently owned, bringing jobs and involvement and money to their communities—that's sweet, sweet icing on the RSD cake.

Here's just a few things to know about Record Store Day 2015 (#RSD15 if you're telling two friends so they can tell two friends...)




MAKE A PLAN!
Are you heading in early to get your hands on some of the special limited edition releases? Gathering your posse to hit up the in-store performances later in the day? BOTH? Be sure to make your plan of attack and start by visiting www.recordstoreday.com to get the lowdown on all the stores, wherever you'll be, and download a handy PDF shopping/wish list of releases. And while you're there, check out our home page. News and music videos, a movie about all the great releases for this year, a fascinating look at vinyl being made, and more. Not to mention crazy good contests just waiting for you to enter.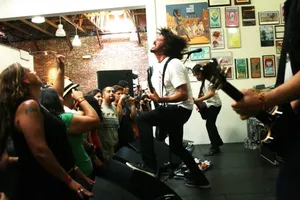 LET'S PARTY!
Every record store does it a little differently: food trucks, free coffee, goodie bags, karaoke contests, caricature drawings, bands, bands, bands galore. You name something fun, somewhere there's a store that's planning on incorporating it into Saturday. Over 600 artists will be spending time at stores meeting people, playing music, doing their thing. Some of them are locally beloved, some of them are world-wide superstars. But they're both doing the same thing: celebrating with you. Find out what's going down at your store by checking in with them personally or looking at the list of events happening on our website, www.recordstoreday.com (That right there is a picture of this year's Ambassador, Dave Grohl, back when he played at Fingerprints in Long Beach, California for Record Store Day 2011.)




BRING THE FAMILY!
In his testimonial (http://www.recordstoreday.com/NewsItem/4894) Dave Grohl talks about his time as a kid in a record store, and about how excited he is to share that with his young daughters. We think he's right on there, and encourage everyone to bring a kid to the record store—this Saturday or any day. What a great place to get them to start thinking about the world around them, to get them to form their own tastes in music, and to get excited about art in its many forms. (Like this young record store lover, feasting her eyes on a picture disc at Neat Neat Neat Records in Fort Wayne, Indiana on Record Store Day 2014.)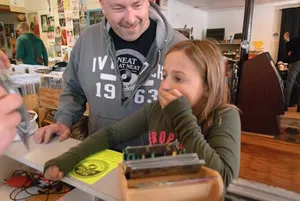 So we hope you're planning on dropping in to your local record store this Saturday, in the morning to get some of the special releases, in the afternoon to check out the festivities, any time at all just to say hi. And if you can't make it on Saturday, that's ok. Record stores are there for you every Saturday. And all the days in between Saturdays too. (And we've launched a radio station, RECORD STORE DAY RADIO, through Dash Radio. It's the sound of the record stores, right there at your fingertips. http://dashradio.com/record-store-day-radio).