SMART STUDIOS STORY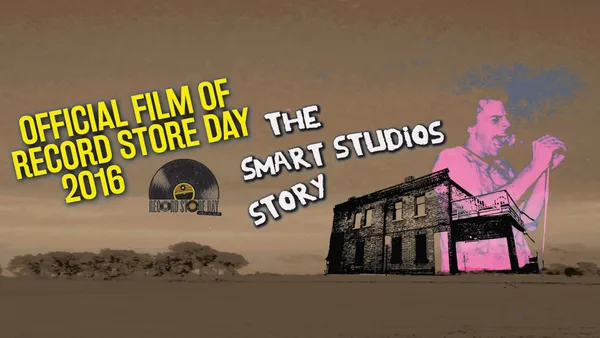 Our Official Film of Record Store Day 2016 is heading out on a screening tour. Check out the tour dates, and make plans to check out The Smart Studios Story at some of the coolest venues in the country.

ABOUT THE FILM:
It was a dilapidated building on the edge of town that many mistook for a crack house.
Yet this little indie studio in Madison, Wisconsin became not only the hub of the Midwest music scene, but a driving force of alternative rock worldwide. The sounds that sprang out of Smart Studios, established in 1982 by Butch Vig and Steve Marker, still influence music to this day.
The story in this feature-length documentary is told through never-before-seen archival footage and by the legendary artists who recorded there and interviews with Dave Grohl (Nirvana), Billy Corgan (Smashing Pumpkins), Shirley Manson (Garbage), Donita Sparks (L7), Chris Walla (Death Cab For Cutie) and many more.
If you've ever been touched by the music of Nirvana, Smashing Pumpkins, Garbage, L7, Death Cab For Cutie (among many, many others), you've been touched by the music created at Smart Studios, the legendary recording facility founded by Butch Vig and Steve Marker. Drawing on in-depth-interviews with musicians and producers, never-before-seen archival footage and a powerful soundtrack,The Smart Studios Story tells the story of the pivotal Midwest link to the global rise of Alternative Rock in the 1990's and the unassuming Madison, Wisconsin recording studio at its center. The post-70's explosion of independent music in America has many traceable roots, each with a compelling story. This is one of the most significant stories that has never been told until now.

10/17: Austin, TX @ The North Door
10/18: Houston, TX @ The Alamo Drafthouse Cinema
10/19: New Orleans, LA @ Zeitgeist Multi-Disciplinary Arts Center
10/20: Hot Springs, AR @ Low Key Arts
10/22: Los Angeles, CA @ Echoplex
10/23: Long Beach, CA @ Frida
10/23: Dallas, TX @ The Alamo Drafthouse Cinema
10/23: Long Beach, CA @Frida Cinema
10/24: El Paso, TX @ The Alamo Drafthouse Cinema
11/09: Boston, MA @ Brattle Theater
11/13: Brooklyn, NY @ St Vitus
11/14: Washington, DC @ Black Cat
11/15: Philadelphia, PA @ MOCCA
11/22: Durham, NC @ Motorco
11/27: Madison, WI @ Sundance at Hilldale
12/02: Seattle, WA @ Grand Illusion
12/03: Seattle, WA @ Grand Illusion