RECORD STORE DAY NOTE TO US RECORD STORES 6-22-18


IN THIS EMAIL:

 





MAKING VINYL 2018 


RICHARD THOMPSON MOCK TUDOR SOLICITATION
INDIE EXCLUSIVES
VALUE ADD OPPORTUNITY

MAKING VINYL 2018
Record Store Day is part of the team that founded the Making Vinyl conference, which is an industry conference devoted to the art of vinyl--manufacturing, design, retail, all aspects. The two day conference is in October, in Detroit, and if you're interested in attending, the registration is at makingvinyl.com and if you use this code you get an extra $50 off: MVDETROIT18


RICHARD THOMPSON  MOCK TUDOR BONG LOAD BOOK EDITION
Recently, Bong Load Records has been going back through their catalog and giving some of their titles a loving reissue, in the form of LP/Book hybrids in the Bong Load Book Edition. Next up is the Richard Thompson release, MOCK TUDOR, which they are selling to you DIRECTLY, as a way to show support of indie record stores (It's even being shipped to you by your fellow indie record store, Zia Records).  
This piece is not inexpensive, but it's also not insubstantial: Hard Cover Coffee Table Book with 2 LPs, 8 pages of recently uncovered photos, reimagined artwork, production notes from producer/mixer Tom Rothrock, era-correct backstage sticky-pass from the tour, and an actual old-school BongLoad sticker from 1999, and, as they say, MORE.  There is artwork and a one-sheet here and instructions for placing orders with Bong Load. (Do not email RSD, we will not be taking orders.) 
These are very limited and first-come, first-serve.
RICHARD THOMPSON
MOCK TUDOR BONG LOAD BOOK EDITION
STREET DATE: 7/10
MSRP: $75
Wholesale:  $49
Ordering Info: 
Retail locations have until Wednesday, June 27th to place orders in order to ensure delivery by the July 10th street date.
First come, first serve. For ordering instructions and shipping information, contact Michael - thedealer@bongloadrecords.com  (Once you have contacted them with the below information, we will send you ordering instructions and a log-in password to order from the bongloadrecords.com retailer portal. For those of you who have ordered from them in the past, you know the drill.)
(Bong Load is also running a retailer special on 3 of their 25th anniversary pressings. Elliott Smith - XO and Figure 8 and desert rock all star album Masters of Reality - Deep in the Hole are all 20% off for indie stores, so ask about that too!)
Please include the following information with your email. 
Your Name:
Store Name:
City & State:
Store Address:
Store Phone Number:
Number of units you are considering:




INDIE EXCLUSIVE SPREADSHEET 
Increasingly throughout the year labels are releasing indie exclusive versions of titles, whether it's a color variant or bonus tracks, or even sometimes a format completely exclusive to indie record stores. These are now so frequent that we've started working with them to compile them in one spreadsheet we'll update and send you every week. This is in addition tothe solicitations from your distro and one-stop reps. W e'll give you as much information as we can, but you are NOT ordering from us, and your rep will almost always have more information. 


INDIE EXCLUSIVE HIGHLIGHT:

 



The Record Company comes back with a new record next week and they have a special Blue Vinyl edition for indies.

Info is on this week's spreadsheet which can be found HERE. It contains releases that are ALREADY OUT but still available to order. Releases that are coming soon that are available to order. Releases that you can start taking pre-orders on and PROMOTING to your customers once you've placed your order.  Other things to know: 

*When an exclusive is available through a one-stop, we'll list that. Sometimes these are only available todirect accounts but we're going to list them because they are exclusives. 

*When a street date is in YELLOW, that means it's coming on a Vinyl Tuesday release date. Two awesome things in one. 

*Some of these are limited, some REALLY limited and will sell out. Act fast.

Click here for Indie Exclusives Artwork 



VALUE ADD OPPORTUNITIES 
On www.recordstoreday.com we regularly promote upcoming value adds that we have worked with various labels

 

to

create. Value adds are items (and they can be anything) that are provided

 

to

 

you

 

to

 

be GIVEN AWAY with the purchase of the associated

 

record

. They are under no circumstance

 

to

 

be sold on their own (And one way

 

to

 

not be part of

 

Record

 

Store Day is

 

to

 

sell these value adds.) The ones we promote on the site, and are available

 

to

you through your coalition, your chain or with your order from Alliance. Alliance gets an allotment of these

 

to

send

 

to

 

all

 

Record

 

Store Day participating

 

stores

 

who order the albums they are associated with from them. Keep in mind, though, that the allotments are limited, and will go first come first serve.

Also, keep in mind that these value adds are created

 

to

 

be given out with the purchase of the accompanying full length release, so they will only be going

 

to

 

stores

 

who are stocking the new release. If you're not a new release store, then this promotion isn't for you. On the site we are always careful

 

to

 

let people know that they should always check with their local store for availability. It is always your choice

 

to

 

stock any of the commercial or promotional pieces we promote on the site. Below are the street dates and titles we have added values for (as well as graphics

 

to

 

help you promote them, where we have those). If you are not alread y getting added values directly from your coalition or chain, you can contact your Alliance rep

 

to

 

place an order. If you don't have an Alliance rep, contact Ken.Glaser@aent.com and he can start the process for you.

6/29 FLORENCE AND THE MACHINE Lithograph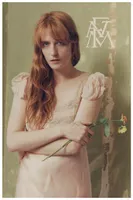 THIS PART WE'RE SERIOUS ABOUT: Please do not copy, forward or otherwise share the information contained in this email with anyone outside its intended recipients. This information is provided to help you keep up with promotions, products and internal workings of Record Store Day. If you no longer wish to receive this email or be part of Record Store Day, please let us know.