TITO'S HANDMADE VODKA, NEWBURY COMICS AND RECORD STORE DAY TEAM FOR WTF WITH MARC MARON COMPILATION ALBUM
April 08, 2019
TITO'S HANDMADE VODKA, NEWBURY COMICS AND RECORD STORE DAY TEAM FOR
WTF WITH MARC MARON COMPILATION ALBUM, AVAILABLE THIS RECORD STORE DAY, APRIL 13TH,
WITH PROCEEDS BENEFITING MUSICIANS ON CALL


AHEAD OF THE RELEASE, WHICH MARKS THE FIRST TITLE ON THE NEW RECORD STORE DAY LABEL,
NEWBURY COMICS CELEBRATED ITS 41STANNIVERSARY ON APRIL 6THAS 'NEWBURY COMICS DAY'
WITH IN-STORE PERFORMANCES AND A CHECK PRESENTATION TO THE MUSICIANS ON CALL ORGANIZATION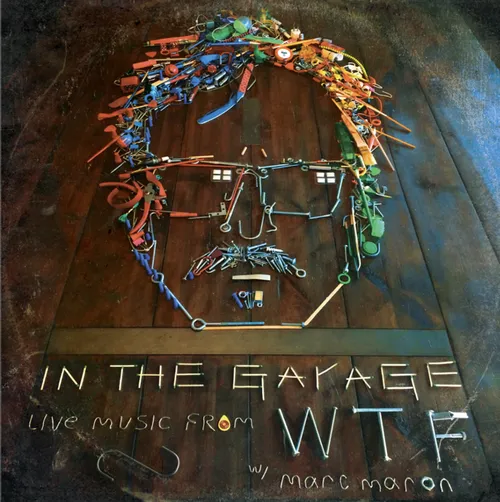 April 8, 2019  – Boston's legendary Newbury Comics and Record Store Day have teamed up with Tito's Vodka to release In The Garage: Live Music from WTF with Marc Maron – Vol. 1, available at participating record stores this Record Store Day, Saturday, April 13th. The album marks the first title on the new Record Store Day label, and proceeds will benefit Musicians on Call.

Ahead of the release, Newbury Comics threw a party on April 6th in honor of its 41st birthday and the day having been recently proclaimed as "Newbury Comics Day" by Boston City Mayor Martin J. Walsh. Held at Newbury Comics' newest location at 348 Newbury Street, the in-store event was a wicked good time featuring performances by Jeff Tweedy, Keytar Bear, and a DJ set from 7L & Esoteric (of Czarface). In addition, Newbury Comics and Record Store Day presented Musicians on Call with a check for $5000, the funds raised through the sold-out pressing of the inaugural RSD Records album.

Founded in 1999, Musicians on Call brings live and recorded music to the bedsides of patients in healthcare facilities in 17 locations across the United States, including Los Angeles, New York, Chicago, Las Vegas, Miami, Nashville, and Boston, the latter of which is home to Newbury Comics and once home to Maron, who attended college at Boston University.


"Across the country, we've seen the incredible benefits of bringing live and recorded music to the bedsides of patients," said Pete Griffin, Musicians On Call President & CEO. "We rely on the support of the music community to help us continue to make a difference in the lives of patients. That's why are so grateful to Tito's Handmade Vodka, Record Store Day, Newbury Comics and Marc Maron for recruiting this incredible roster of musicians to help amplify our mission, allowing us to deliver the healing power of music to even more patients, families and caregivers."

"Music is a big part of our culture here at Tito's. We work with Record Store Day and Musicians On Call to sustain and spread that by supporting the deeply passionate folks who work in record stores and use music to improve the lives of others," said Zack Flores, Director of Philanthropic Programs at Tito's Handmade Vodka."Over the years, we've realized our work together poses an opportunity to illuminate the ritual that is listening to music on vinyl and the very human, emotional and healing powers music has on all of us."

In The Garage: Live Music from WTF with Marc Maron--Vol. 1 features 10 tracks of live intimate musical performances recorded for Maron's hit WTF podcast by artists including Dave Alvin, featuring on guitar none other than Maron himself, EELS, Melissa Etheridge, Ben Harper and Charlie Musselwhite, Jason Isbell, Karen Kilgariff (singer/songwriter and co-host of the "My Favorite Murder" podcast), Aimee Mann, Nick Lowe, J. Mascis (Dinosaur Jr), and Margo Price. All tracks were recorded by Maron in the garage for the WTF podcast, except for Isbell's performance, which was recorded at the Saint Paul Hotel in St. Paul, Minn. Also included on the printed inner sleeve is a personal essay from Maron describing his authentic, barebones process for recording performances, and select intimate details on his experience recording some of the artists featured on this album. The album also marks Maron's debut appearance as a musician on record with and is one of the first-ever podcast-oriented vinyl releases. The album is a true record store collaboration: curated by Carl Mello for Newbury Comics, and art-directed by Rand Foster of Fingerprints Music in Los Angeles. "As a longtime fan of both institutions, we were very happy to play matchmaker between WTF with Marc Maron and Record Store Day for what we think will be a special release, " Mello says. "Seeing a couple of fellow New Englanders represented (Hello to Aimee and J!) makes iteven more so. As does playing a small part in helping out Musicians on Call. Bring on Volume 2?"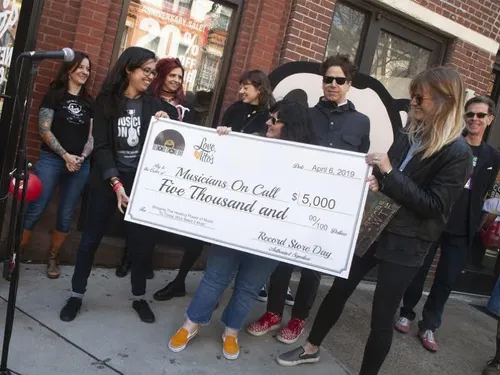 About Newbury Comics:

Newbury Comics is an independently owned retailer specializing in exclusive colored vinyl and autographed music releases, fashion, comics and pop culture goods with 40 years of alternative retailing through their 28 store locations in New England and New York. The company opened its first store in 1978 in Boston.

About Record Store Day

Record Store Day, the organization, is managed by the Department of Record Stores and is organized in partnership with the Alliance of Independent Media Stores (AIMS), the Coalition of Independent Music Stores (CIMS) and promotes independent record stores year-round with events, special releases and other fun things.

Record Store Day, the global celebration of the culture of the record store, takes place annually in April. Record Store Day 2019 is April 13.

Record Store Day Sponsors:

ADA, Caroline, Crosley Turntables, D'Addario, Dogfish Head Brewery, Furnace Record Pressing, Glowtronics, InGrooves, Kanto, Music Business Association, MVD Entertainment, The Orchard, Redeye Distribution, Sony Music, ThinkIndie, Traffic Distribution, URP Distribution, Vans, Vinyl Styl, WEA

For more information about Record Store Day, please visit www.recordstoreday.com



Perry Serpa/River Hooks
Tell All Your Friends PR
917 660-4137
perry@tellallyourfriendspr.com
river@tellallyourfriendspr.com

Cristina Sneed
NoiseNY
cristina@noiseny.com
Phone: 917-684-0452