STEVE EARLE PRIVATE VIRTUAL IN-STORE!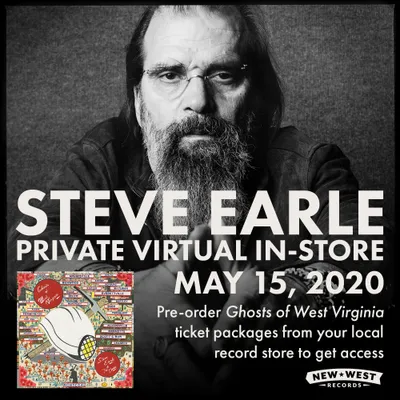 Steve Earle's new album GHOSTS OF WEST VIRGINIA is coming out on 5/22, and at any normal time we'd be announcing some in-store performances from Mr. Earle, who is a longtime Friend of Record Stores and usually does a few. This year is different, but he doesn't want to disappoint his fans or his record stores, so there's going to be one in-store event, an intimate private performance for customers of record stores around the country.  Just purchase a Ticket Bundle Pre-Order from your local participating record store and get a CD or Vinyl copy of GHOSTS OF WEST VIRGINIA mailed directly to you-- arriving on 5/22-- AND an access code to sit back and enjoy a special performance from Steve Earle on Friday 5/15.   

Get more details and a Ticket Bundle Pre-order Link from these record stores.