#RTJRSD18 - RECORD STORE DAY 2018 AMBASSADORS RUN THE JEWELS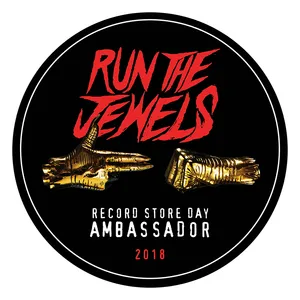 February 15, 2018

FOR IMMEDIATE RELEASE:
#RTJRSD18
RECORD STORE DAY 2018 AMBASSADORS
RUN THE JEWELS


EXCLUSIVE ANNOUNCEMENT MADE TODAY ON
SIRIUSXM'S "FEEDBACK" MORNING SHOW ON THE VOLUME CHANNEL


The list of musicians who have taken up the duties of Record Store Day Ambassador has grown impressively long over the past decade, boasting such music makers as Metallica, Dave Grohl, Iggy Pop, Ozzy Osbourne, Jack White, Chuck D, and St. Vincent, just to name a few. This year's appointment to the lineage does not disappoint…

Meet Record Store Day Ambassadors for 2018: RUN THE JEWELS.

Today, one half of Run The Jewels, rapper/producer EL-P jumped in with Record Store Day's Michael Kurtz and Rick Johnson to announce the RTJ's ambassadorship on SiriusXM's "Feedback" show, which airs on their VOLUME channel. SiriusXM's VOLUME (Channel 106) is the first-ever 24/7 talk radio channel dedicated to the discussion of music, and "Feedback" is the channel's live morning show hosted by Nik Carter and Lori Majewski.

On-air this morning, EL-P joked when contemplating the string of RSD ambassadors, to-date, "I can't tell you how proud I am to be the least wealthy Record Store Day Ambassador," but then in a more momentous tone, he added, "This is a community that I've always been a part of, so when I was asked to do it, I said 'of course!' I'm honored and it means something to me… I'm really grateful to do this."

The Run The Jewels/SiriusXM broadcast is the first time Record Store Day has ever announced its ambassador on-air.

Run The Jewels' Official Ambassador Statement Video hints at a special release for Record Store Day 2018. Check back for more details on RTJ's RSD release and all the others on the Official List coming very soon!

EL-P and rapper Killer Mike have a history with Record Store Day, having released a 12" in 2015 as a Record Store Day First release, and unique offerings for both Record Store Day and Black Friday in 2017.

Their ties to record stores go back even further: "Indie stores fostered my love of Rap. Super Sounds in Atlanta [and Decatur] were my havens as a kid," says Killer Mike. That's where I heard new music, argued about our favorite artists and even met some artists there. I lived for the day I was a poster on the wall."

After meeting in 2011, the duo began working on each other's albums and touring together. The activity spawned a veritable supergroup of two and Run The Jewels was born. Since 2013, they've been in constant motion, producing three critically acclaimed albums, guest spots, collaborations, a remix album of cat sounds, and millions of happy fans packing sold out shows.

"I am so excited to have these guys as Ambassador, and it makes so much sense!" says Carrie Colliton, a Record Store Day co-founder. "I've seen how hyped up and just flat out joyous people get when they're around, at in-stores or at live shows. HUGE crowds of all kinds of different people, with diverse musical backgrounds coming together for Run The Jewels, and I can't help but think that it's just like hanging out at a record store--nobody's musical tastes are the same but there's something there to bring them all together."


About Record Store Day:

Record Store Day, the organization, is managed by the Department of Record Stores and is organized in partnership with the Alliance of Independent Media Stores (AIMS), the Coalition of Independent Music Stores (CIMS) and promotes independent record stores year-round with events, special releases and other fun things.

Record Store Day, the global celebration of the culture of the record store, takes place annually in April.

Record Store Day 2018 Sponsors:

ADA, Border City Media, Caroline, Crosley Turntables, Dr Martens Airwair USA, Dogfish Head Brewery, Furnace Record Pressing, Glowtronics, InGrooves, Music Business Association, MVD Entertainment, Okki Nokki, The Orchard, Redeye Distribution, Sony Music, ThinkIndie, URP Distribution, Universal Music Distribution, Vinyl Styl, Warner Bros. Records, WEA.


For All Record Store Day Related Press Inquiries Please Contact:


Perry Serpa - perry@tellallyourfriendspr.com
River Hooks - river@tellallyourfriendspr.com
Phone: 917-660-4137


NoiseNY
Cristina Parker - cristina@noiseny.com
Phone: 917-684-0452